HISTORY
CASLT Timeline
Established in 1970, the Canadian Association of Second Language Teachers (CASLT) has grown from a small team of volunteers to a national organization that fosters and advances professional excellence in language teaching in Canada. Travel through our timeline to explore CASLT milestones from its founding to the present day.
1970
CASLT is founded by Dr. Robert Roy, Dr. Borislaw Bilash, Arthur Corriveau, Marcel Bonneau, and Louis Maurice.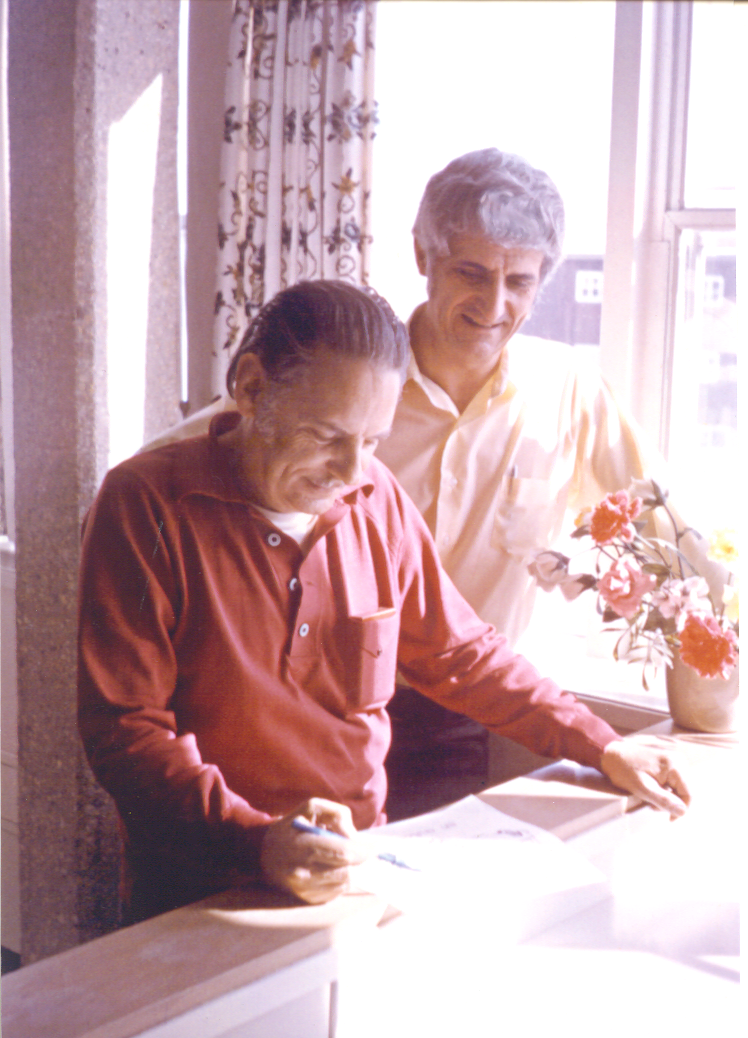 1971
Dr. Robert Roy (1927–1990) of Winnipeg serves as the first CASLT president from 1971 to 1972.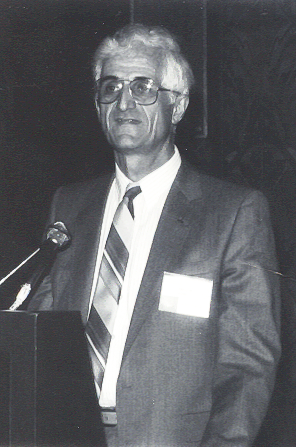 1972
CASLT individual annual membership costs $2; about 25 members sign up. Second National Conference held in Toronto, attended by 50 members. "What Language Shall We Teach?" is the title of the keynote address by Philippe-André Renaud.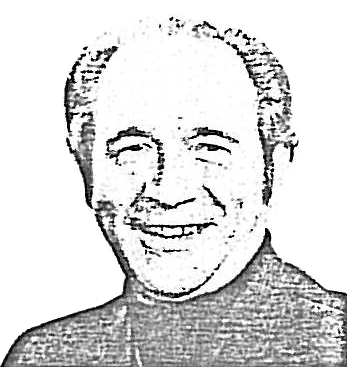 1973
National Conference held in Regina, attended by 125 members.
1974
CASLT offers associate membership at $20 per year; there are seven associate members.
1975
First woman president of CASLT: Sister Eileen Sesk of Newfoundland.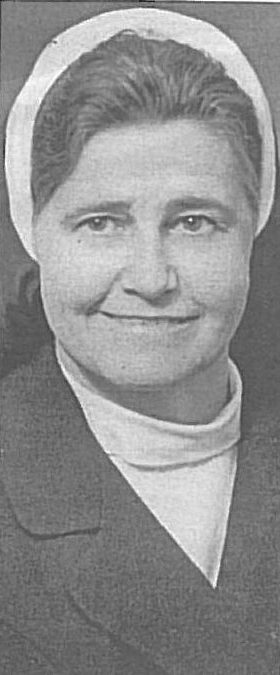 1976
CASLT receives its first grant from the Office of the Secretary of State. A major portion of these funds is allocated to the national newsletter.
1977
National Conference in Toronto is attended by over 500 participants.
1978
CASLT enjoys a membership of 300 individuals.
1979
National Conference in Moncton celebrates International Year of the Child and offers 23 workshops to 500 delegates.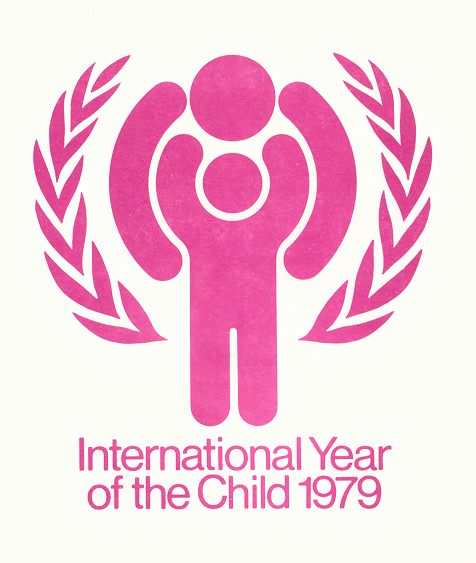 1980
CASLT's 10th Annual Conference in Saskatoon. Keith Spicer, Canada's first Commissioner of Official Languages, is the keynote speaker.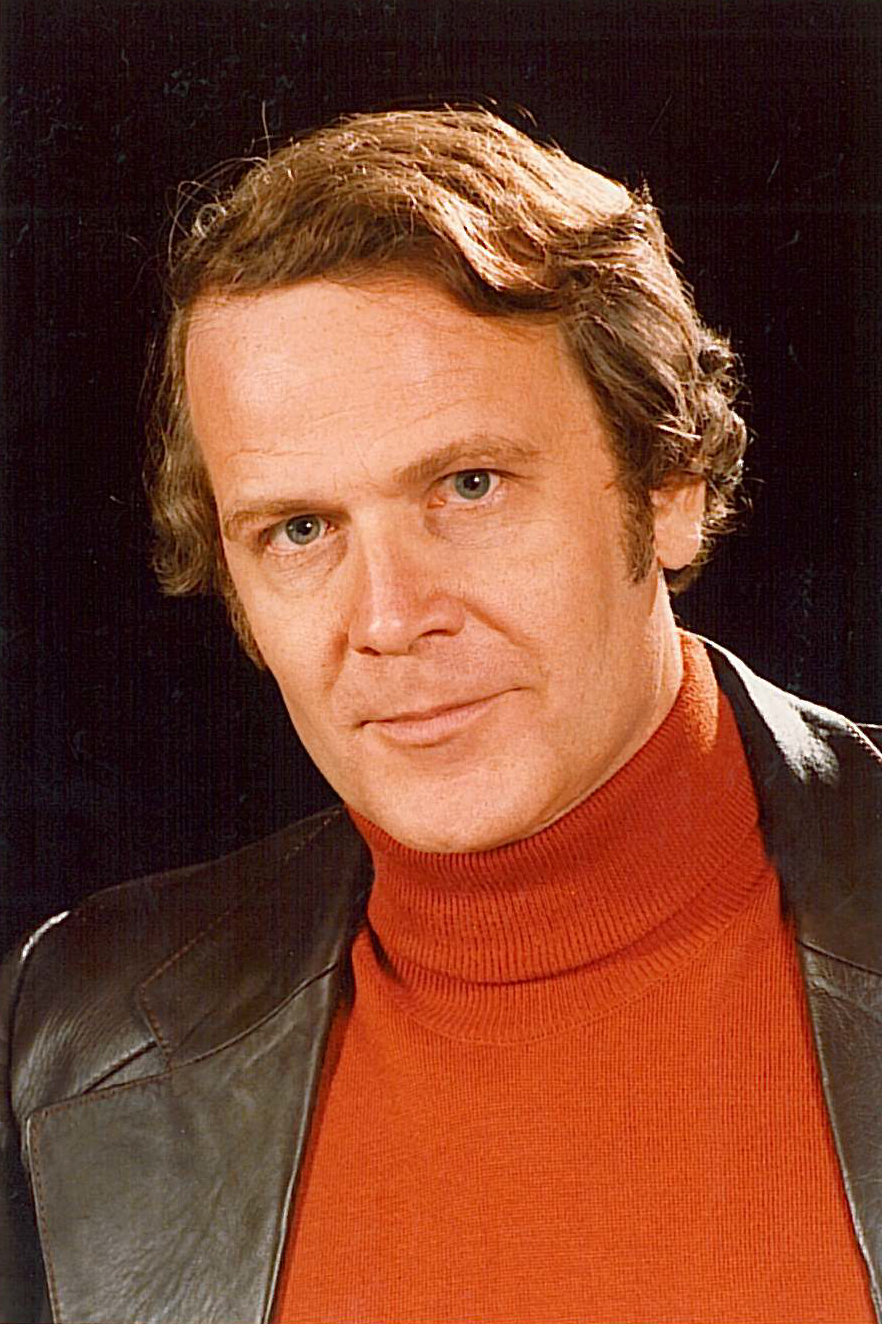 1981
First issue of the Bulletin. The Editor is Caterina Sotiriadis of Manitoba.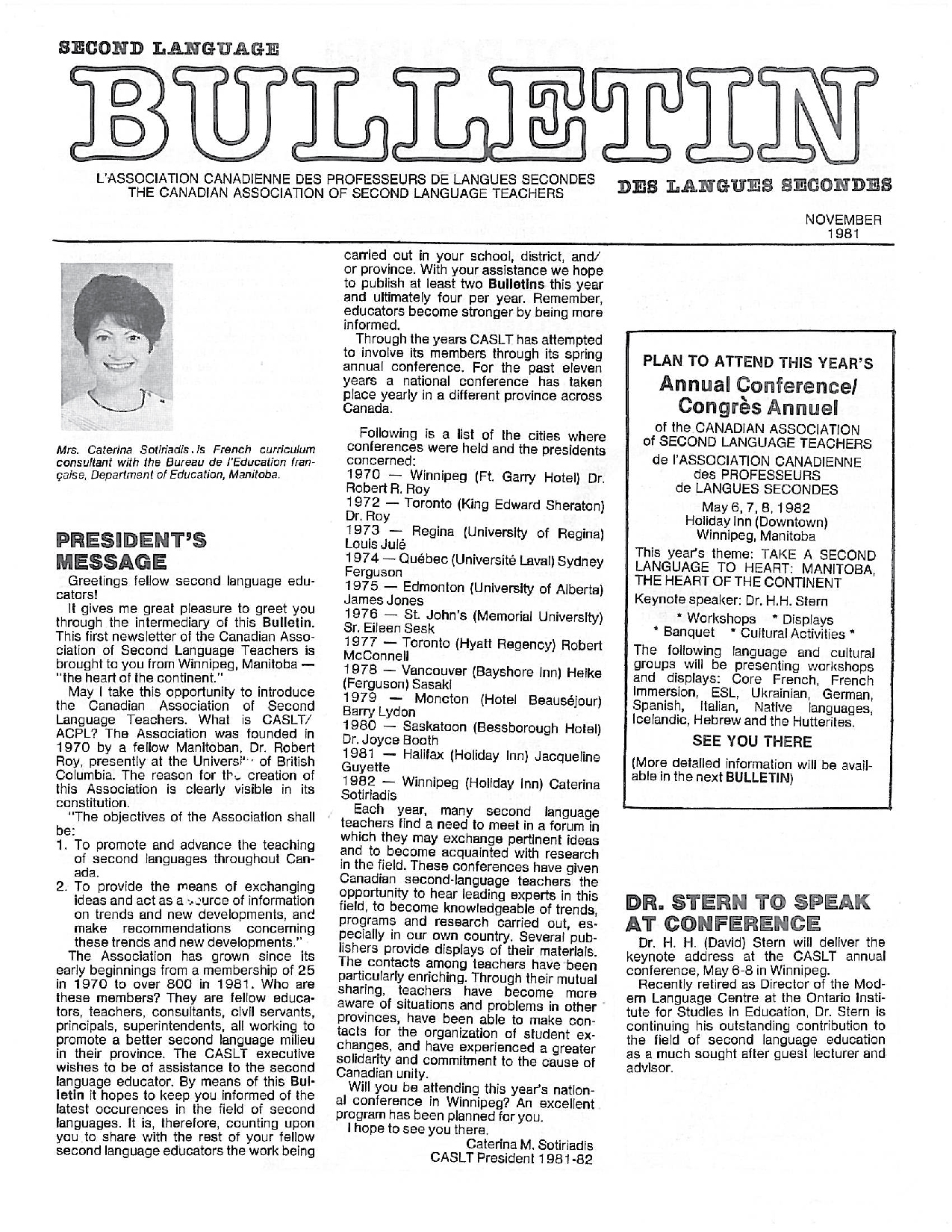 1982
CASLT's Constitution adopted, written by Janet Poyen of Alberta and Caterina Sotiriadis of Manitoba.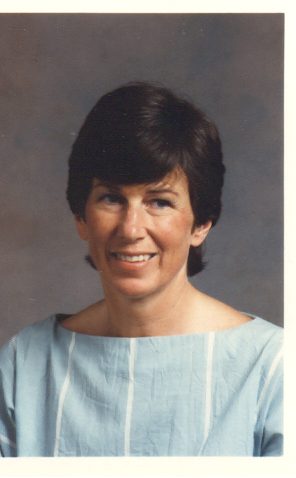 1983
Official incorporation of CASLT; the Head Office is established in Winnipeg. The first Robert Roy award given to H. H. David Stern.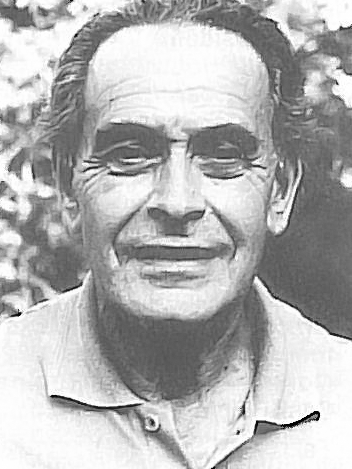 1984
Inauguration of CASLT's National Council.
1985
Debut of CASLT's National Core French Study, a project involving 250 individuals and over 100 classrooms in 9 provinces and the Northwest Territories.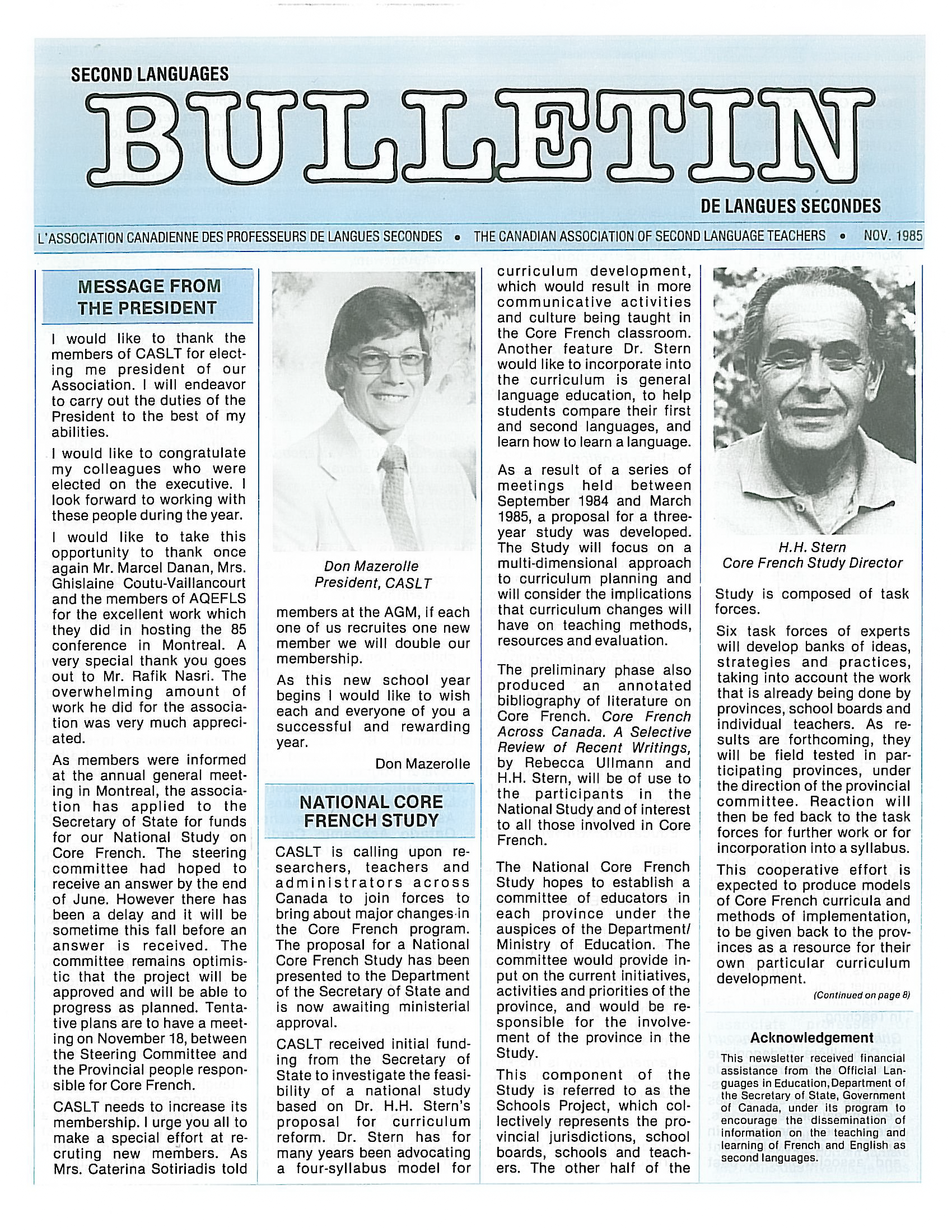 1986
CASLT buys a photocopier for the National Office in Winnipeg to increase capacity for publicity, soliciting conference exhibitors, and publication of the Bulletin.
1987
Peter Heffernan of Lethbridge becomes the Editor of the Bulletin and holds that position until 1996.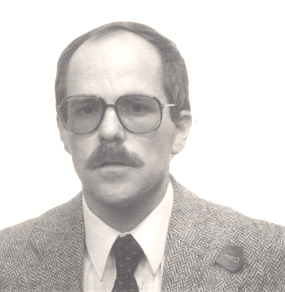 1988
CASLT initiates two teacher award bursaries, $500 each, for the study of second language methodology and/or linguistic upgrading in the summer.
1989
CASLT President Joyce Fewer is invited by the Secretary of State of Canada to participate in a round-table discussion on teaching FSL and ESL.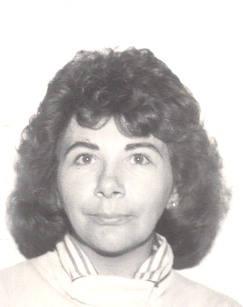 1990
CASLT publishes its National Core French Study to serve as a basis for a revised core French curriculum and teaching strategies.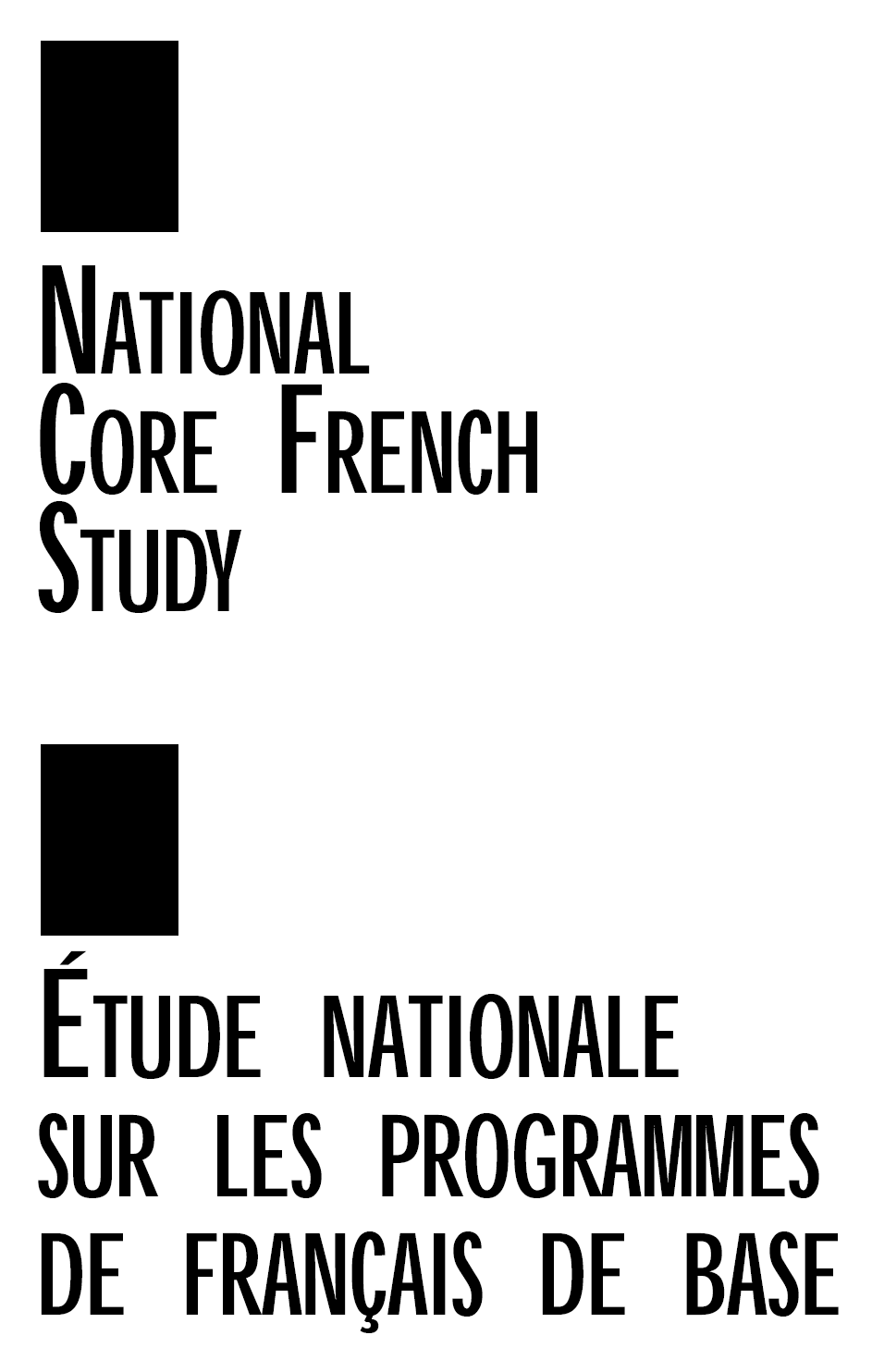 1991
National Conference and Multilingual Book Fair held in Winnipeg.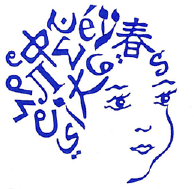 1992
"Language and culture also provide us the keys to open doors of understanding […] wherein we can celebrate our differences and our human commonalties." Excerpt of keynote address by Ann Medina, CASLT Annual Conference, Edmonton.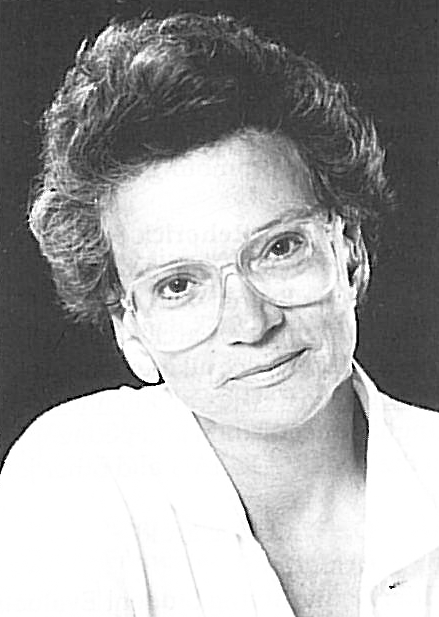 1993
WRITE IT UP!, a national writing contest for 10–13-year-olds around the theme "English and French in Canada: What it Means to Me," sponsored by CASLT, CPF, and CAIT.
1994
CASLT publishes its National Core French Study: A Model for Implementation.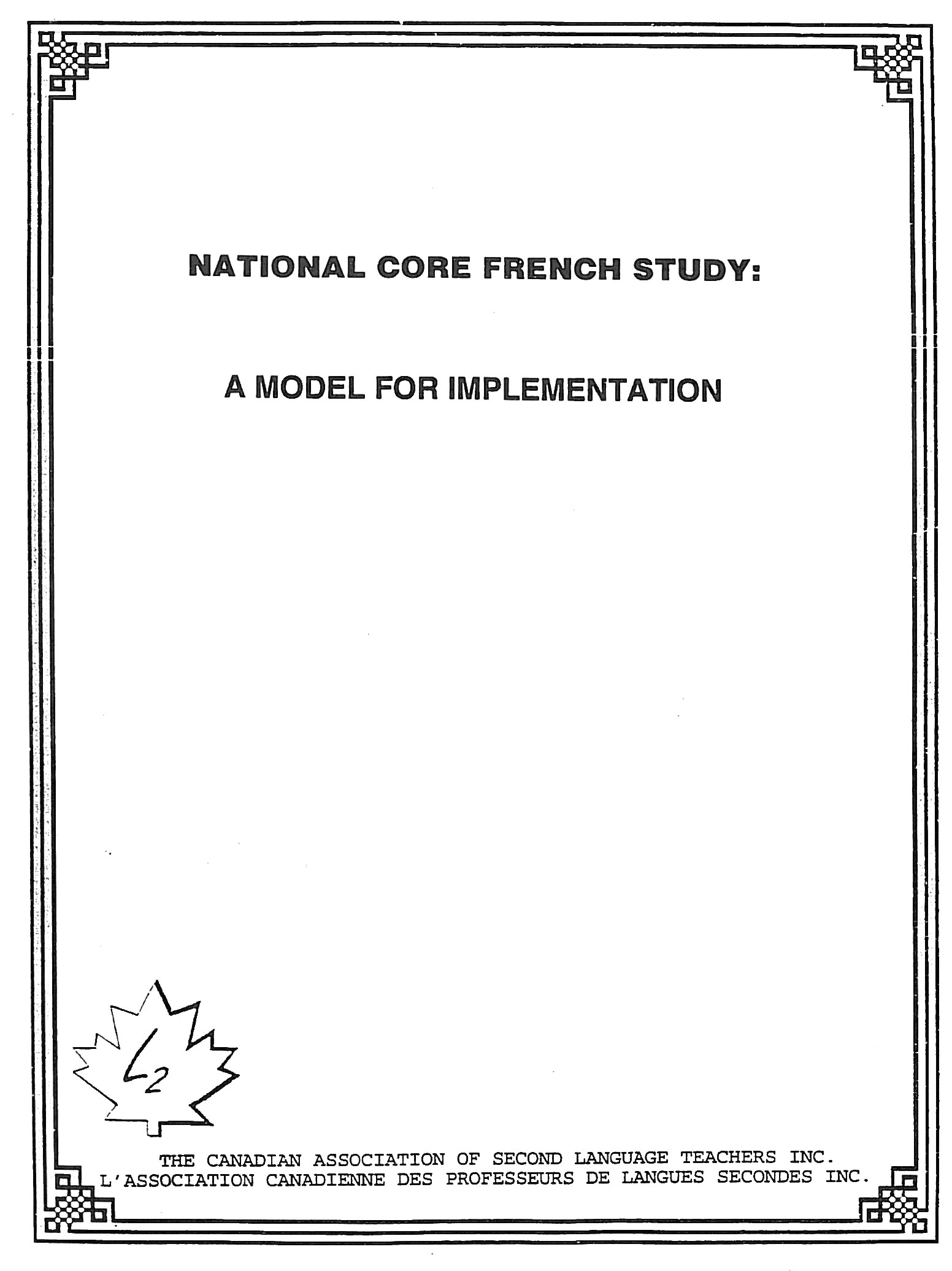 1995
Special Edition of the Bulletin celebrates CASLT's Silver Anniversary. Included is a message from Prime Minister Jean Chrétien: "Your record of achievement testifies to the quality of the programs and services which you provide."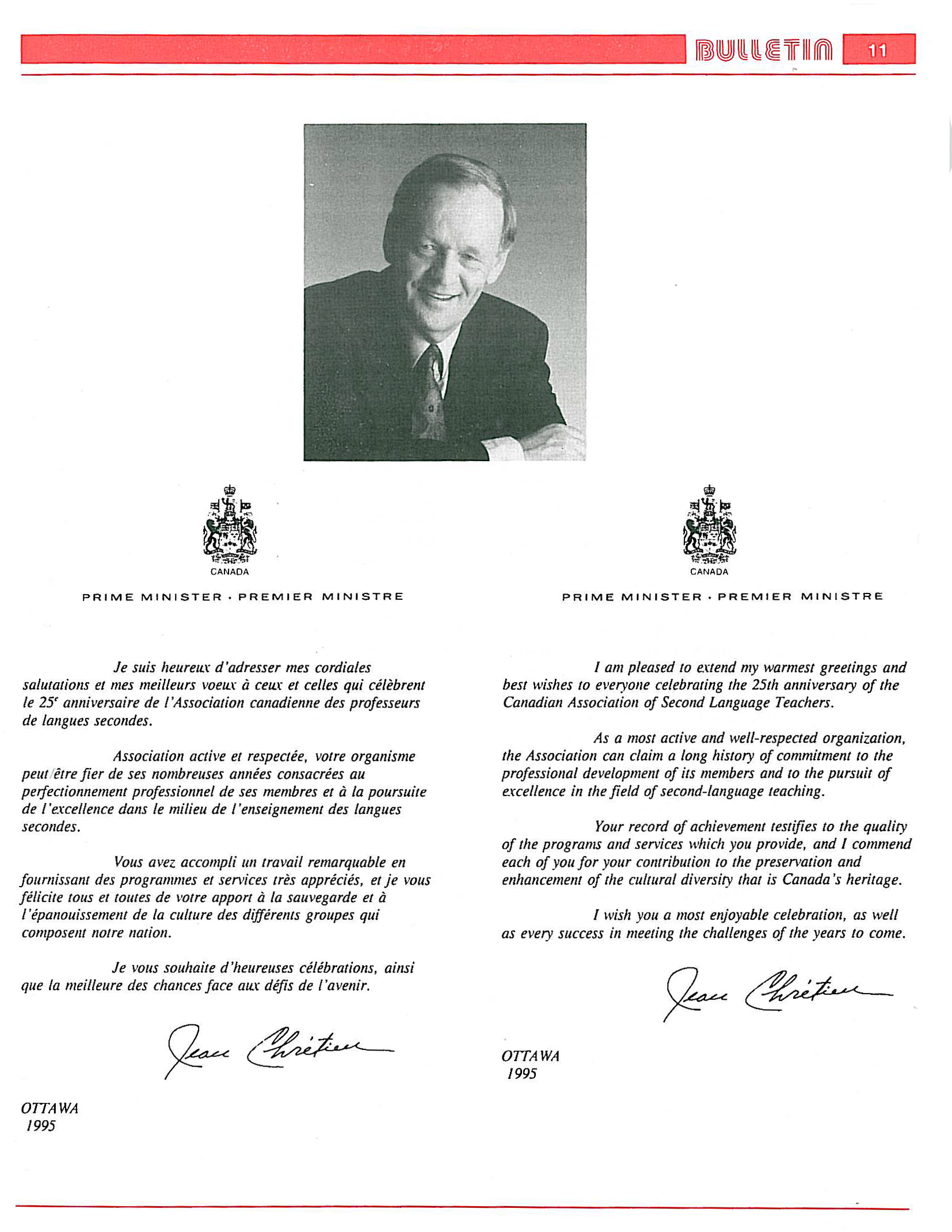 1996
Launch of the CASLT website, designed by a technology team from TVOntario. The first home page is orange and announces information on the national conference.
1997
National Office moves from Winnipeg to Ottawa, sharing office space with CPF. The Bulletin becomes Réflexions in its Spring issue.
1998
Joint National Conference with CAIT in Ottawa; CASLT runs numerous workshops.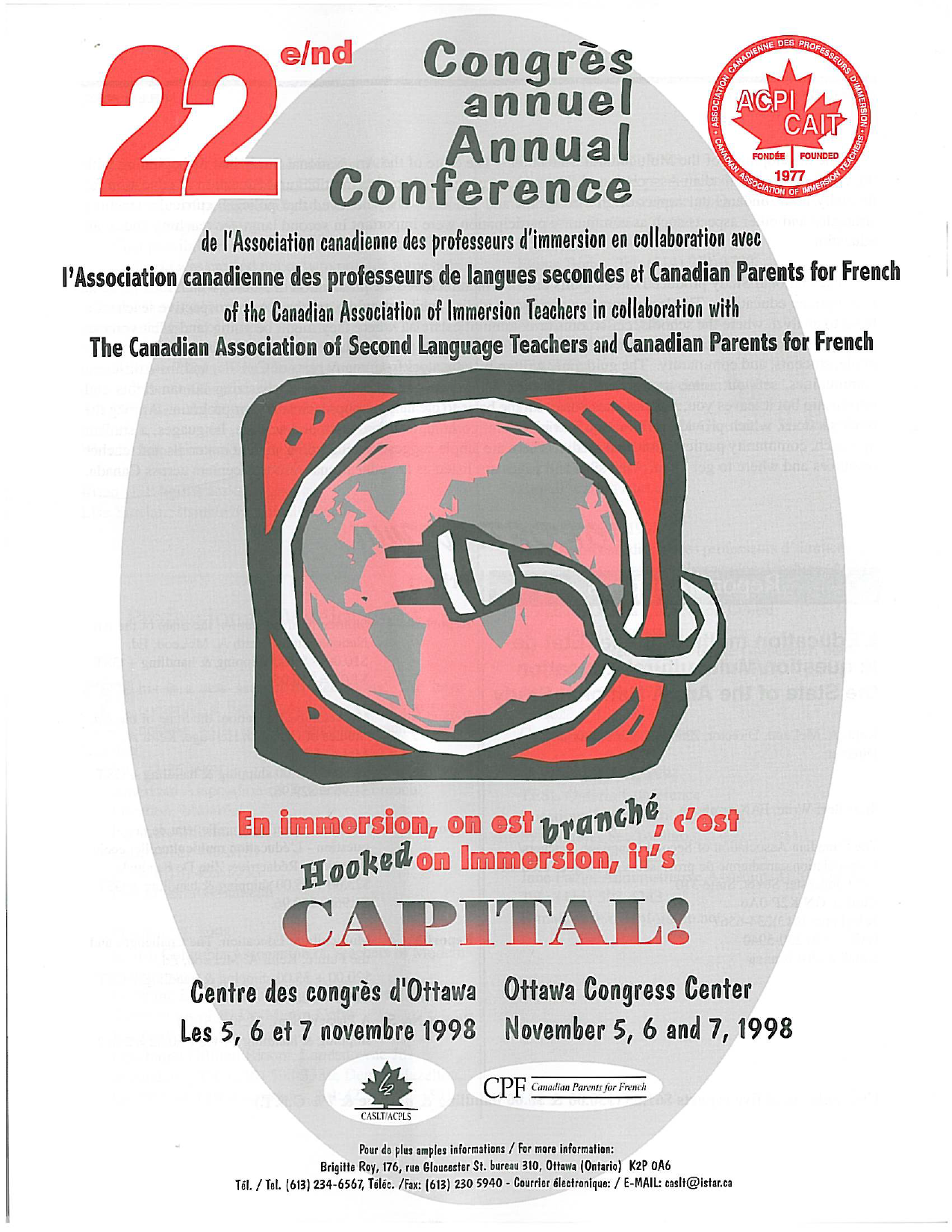 1999
"CASLT is a strong, vital, and growing association that has many feathers in its cap: from the NCFS through the Assessment instruments and Réfl exions, to the newly revitalized website […] Its true strength, however, lies in its members." Excerpt of the president's address by Helen Coltrinari, CASLT AGM.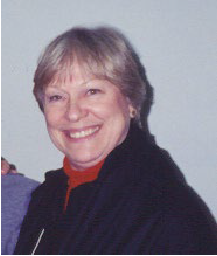 2000
CASLT receives the SEVEC Certificate of Merit, highlighting CASLT's contributions to SEVEC. CASLT releases its Professional Development for Teachers of Core French and ESL.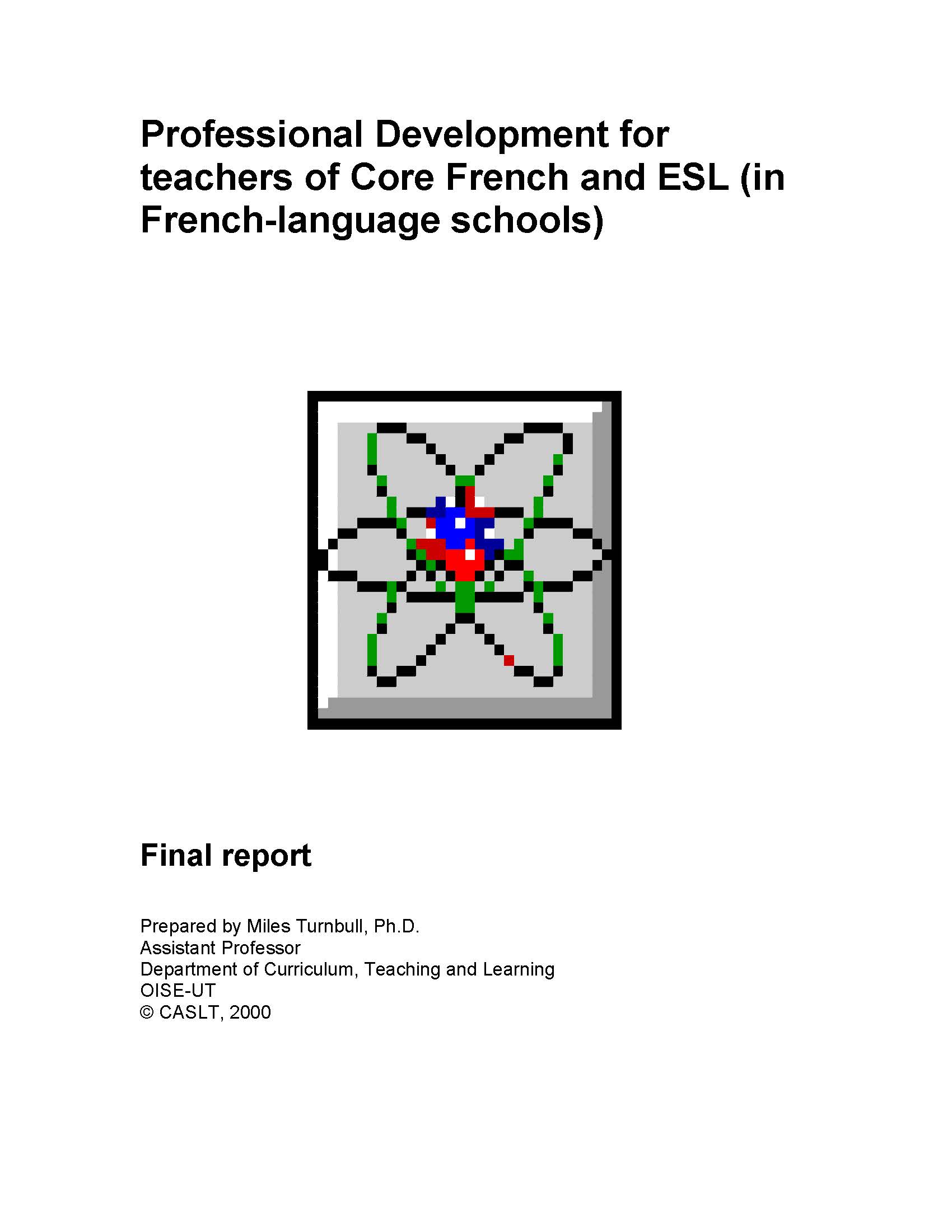 2001
Creation of the Honorary Lifetime Member Award acknowledging significant contributions to the advancement of second language education.
2002
CASLT Chez-Vous officially launched "after two years of experimenting on our own with the concept of CASLT Chez-Vous professional development day." CASLT hosts the Spring Celebration of Language Learning and Teaching on Parliament Hill in Ottawa. The keynote speaker is John Ralston Saul.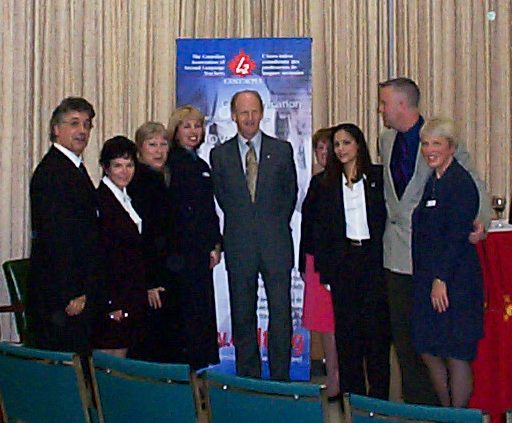 2003
The position of Executive Director is created. Nicole Thibault assumes this position in addition to being Education Officer. First Networking Day is held.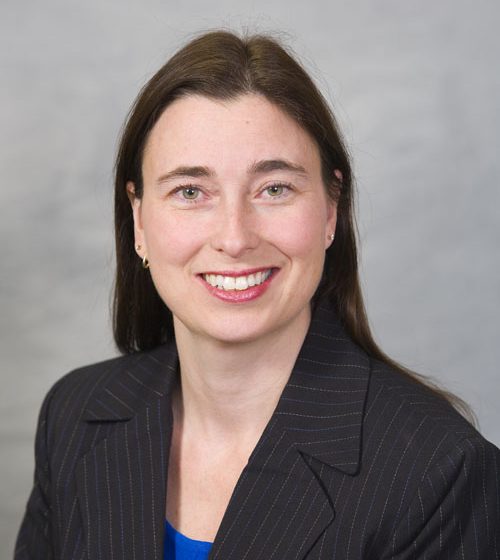 2004
CASLT becomes a member of the Fédération Internationale des Professeurs de Français (FIPF).
2005
CASLT releases An Examination of Intensive French: A Pedagogical Strategy for the Improvement of French as a Second Language Outcomes in Canada. CASLT obtains management of LangCanada.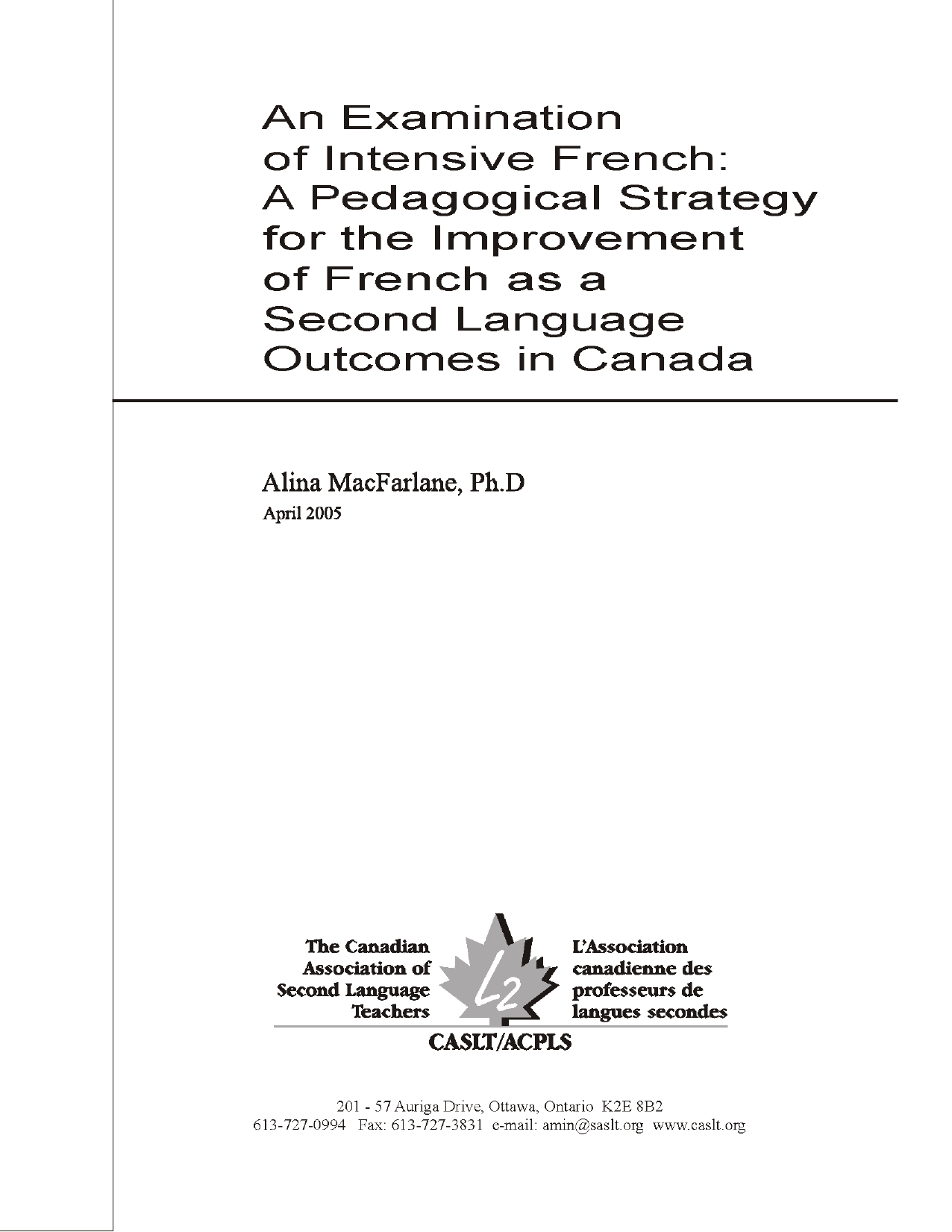 2006
CASLT hosts representatives from the Ministries of Education to discuss a Common Framework of Reference for Languages, inspired by the European model.
2007
Launch of A Common Framework of Reference and a Portfolio for Languages in Canada, Information Kit. CASLT releases a Podcast Series on Best Practices in FSL teaching. This initiative will culminate in 25 podcasts prepared by eminent L2 researchers.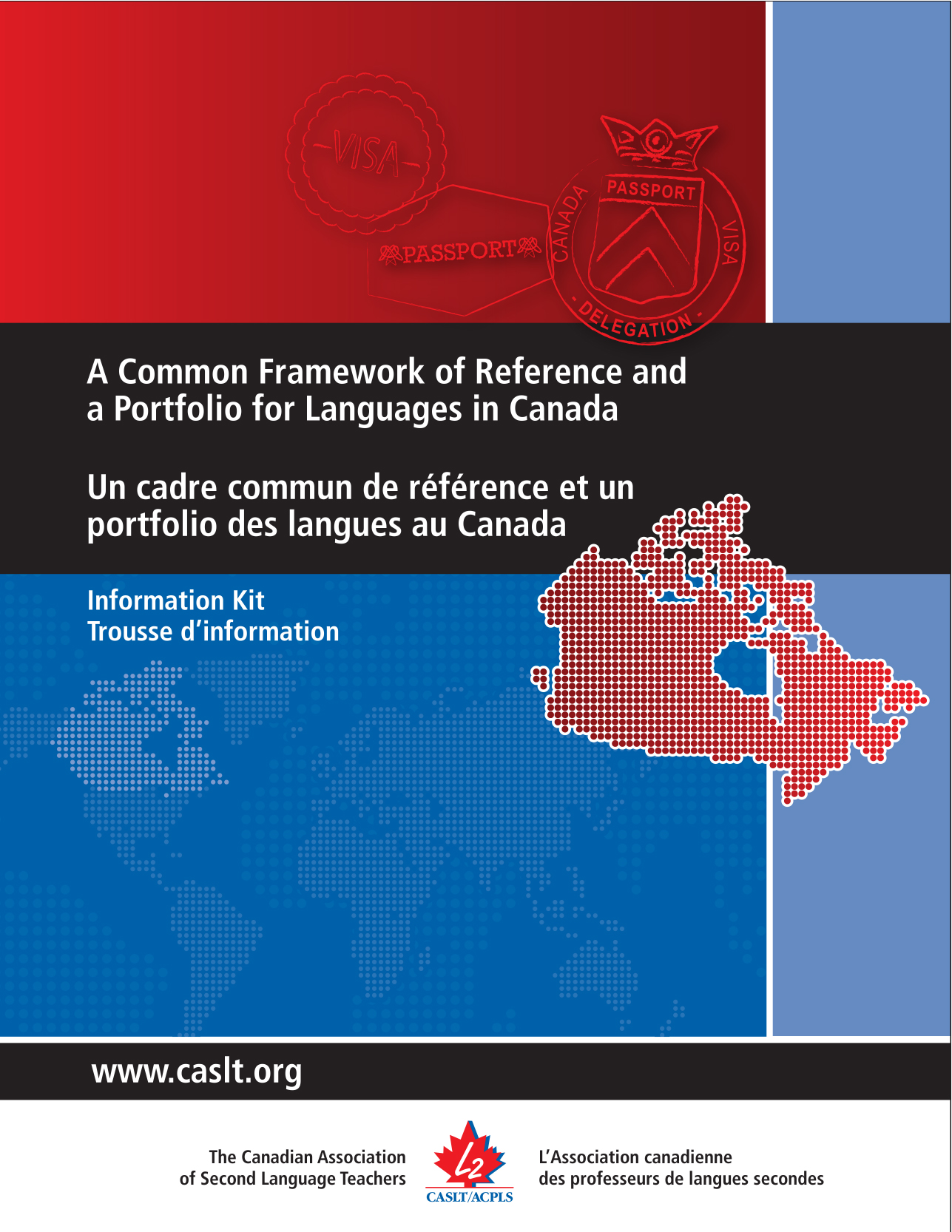 2008
Honorary Lifetime Member Award goes to the Honourable Claudette Tardif, Senator. Tardif is a former FSL teacher, Dean of the Faculté St- Jean, University of Alberta, and author of several publications on teaching FSL and teacher training.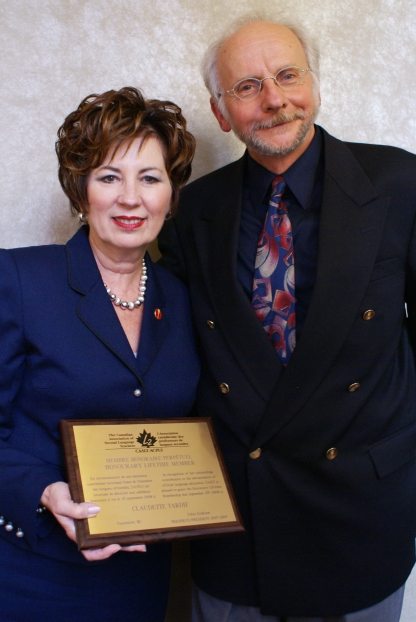 2009
CASLT conferences for language educators sport a new brand — Languages Without Borders — held in Edmonton, May 21–23. Release of Profile and Pathways: Supports for Developing FSL Teachers' Pedagogical, Linguistic, and Cultural Competencies by Michael Salvatori and Alina MacFarlane.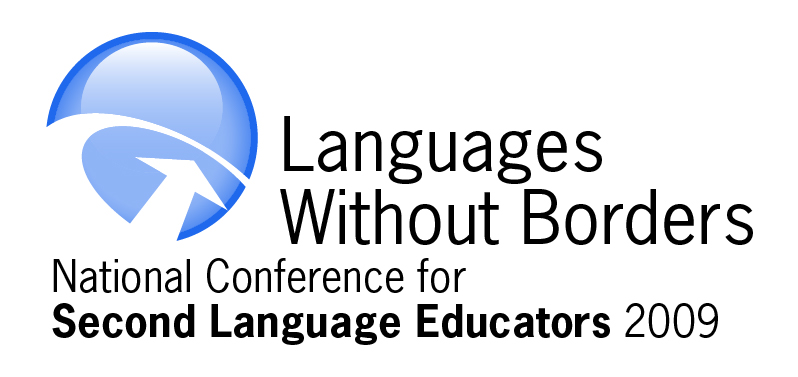 2010
Launch of 35 videos filmed during a symposium of the Canadian Association of Applied Linguistics. Daniel Coste gives workshops in Vancouver and Ottawa to share perspectives on implementing the CEFR and ELP in Canada.
2011
Release of Perceptions from ESL Teachers Across Canada: A National Survey of the English Second Language (ESL) Teaching Profession. Launch of Research and Special Initiatives Grants for Teachers.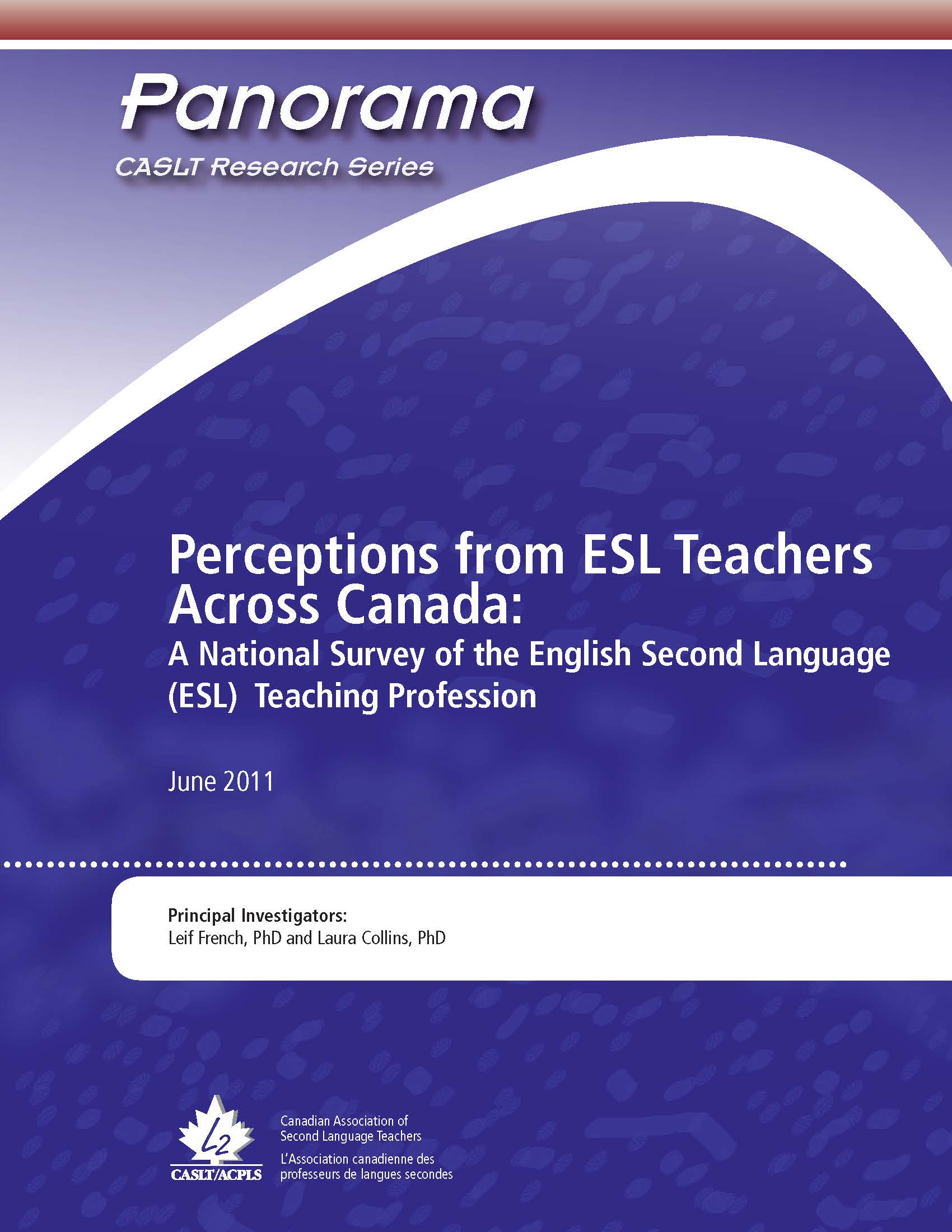 2012
Online Professional Development initiated in collaboration with the Centre for Distance Learning and Innovation.
2013
What is the CEFR? video launched.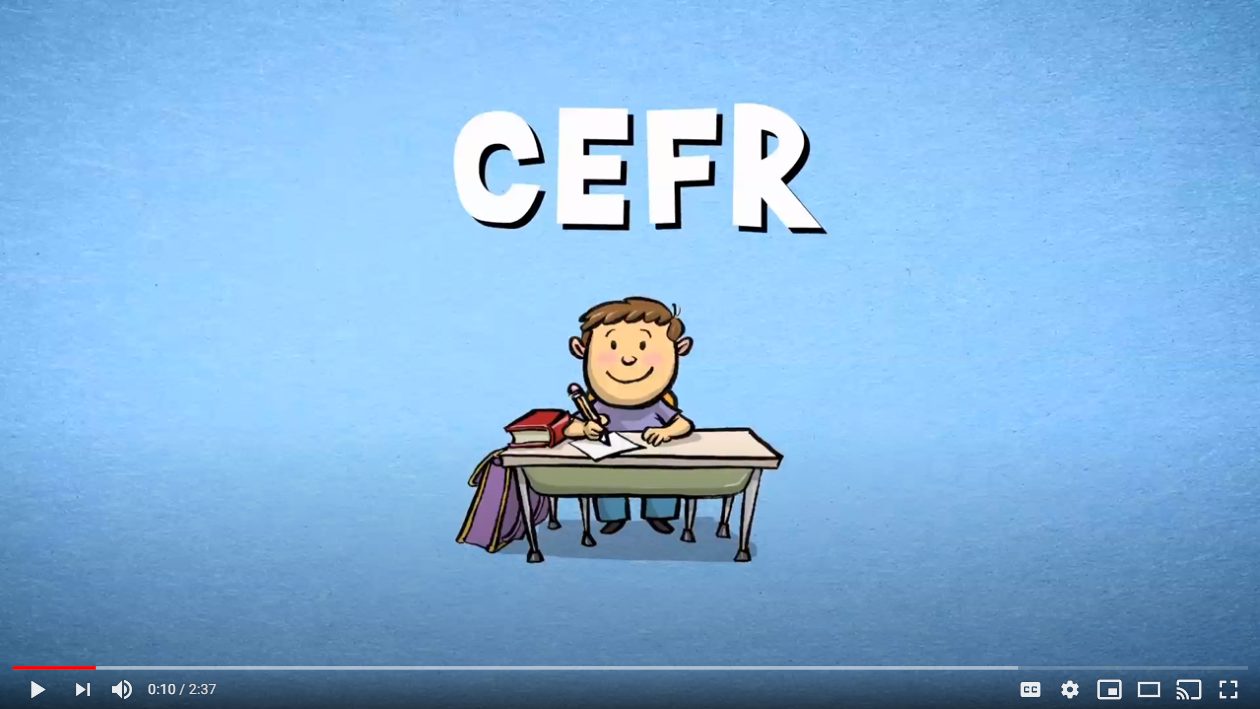 2014
Online Professional Development in full swing with six workshops offered. CASLT's Live Learning Centre offers over 75 recorded sessions from recent LWB conferences. Assessment in Action: A CEFR-Based Toolkit series launched.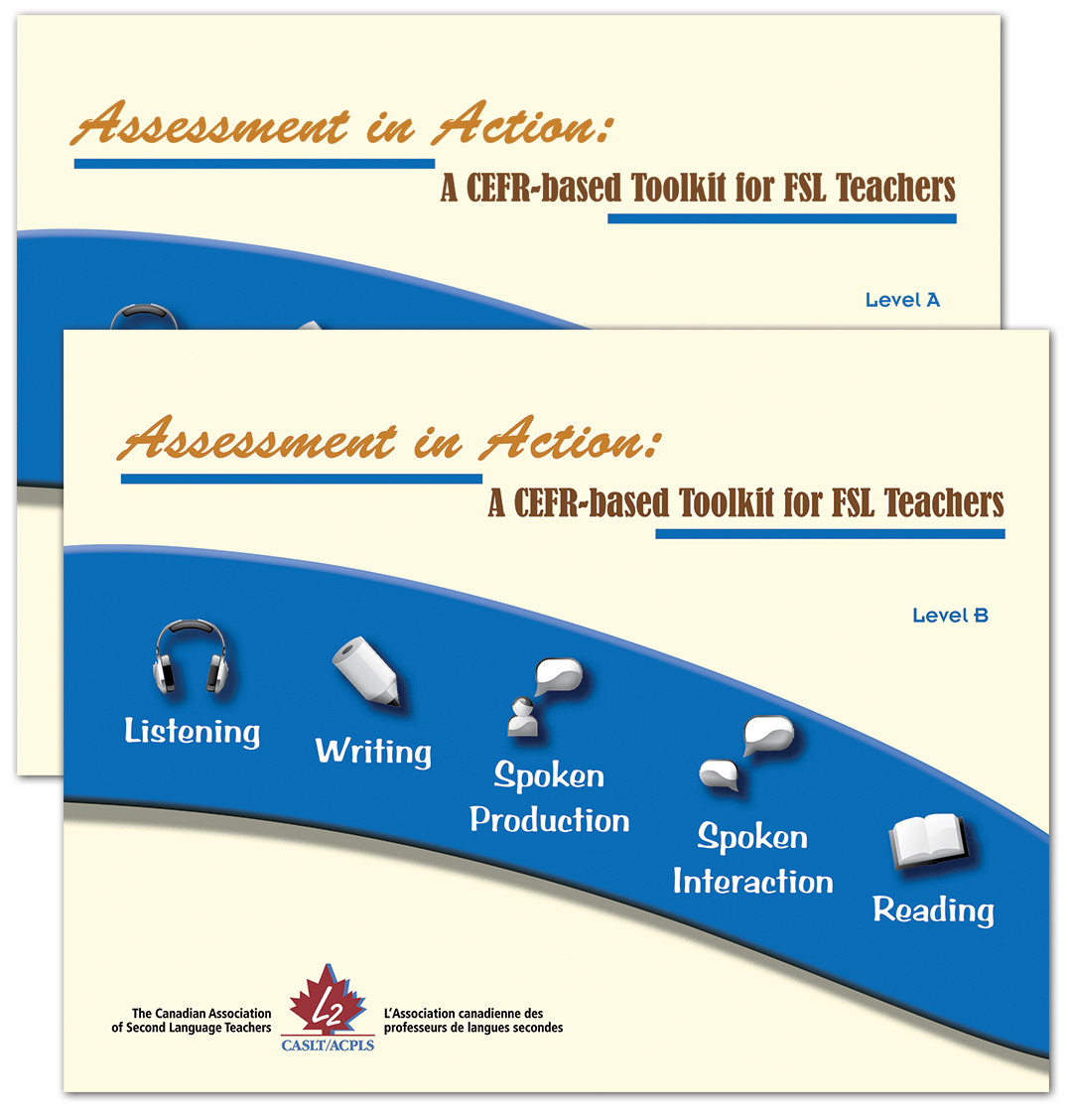 2015
World Congress of Modern Languages, organized jointly by CASLT, OMLTA, and FIPLV, attended by over 1050 delegates.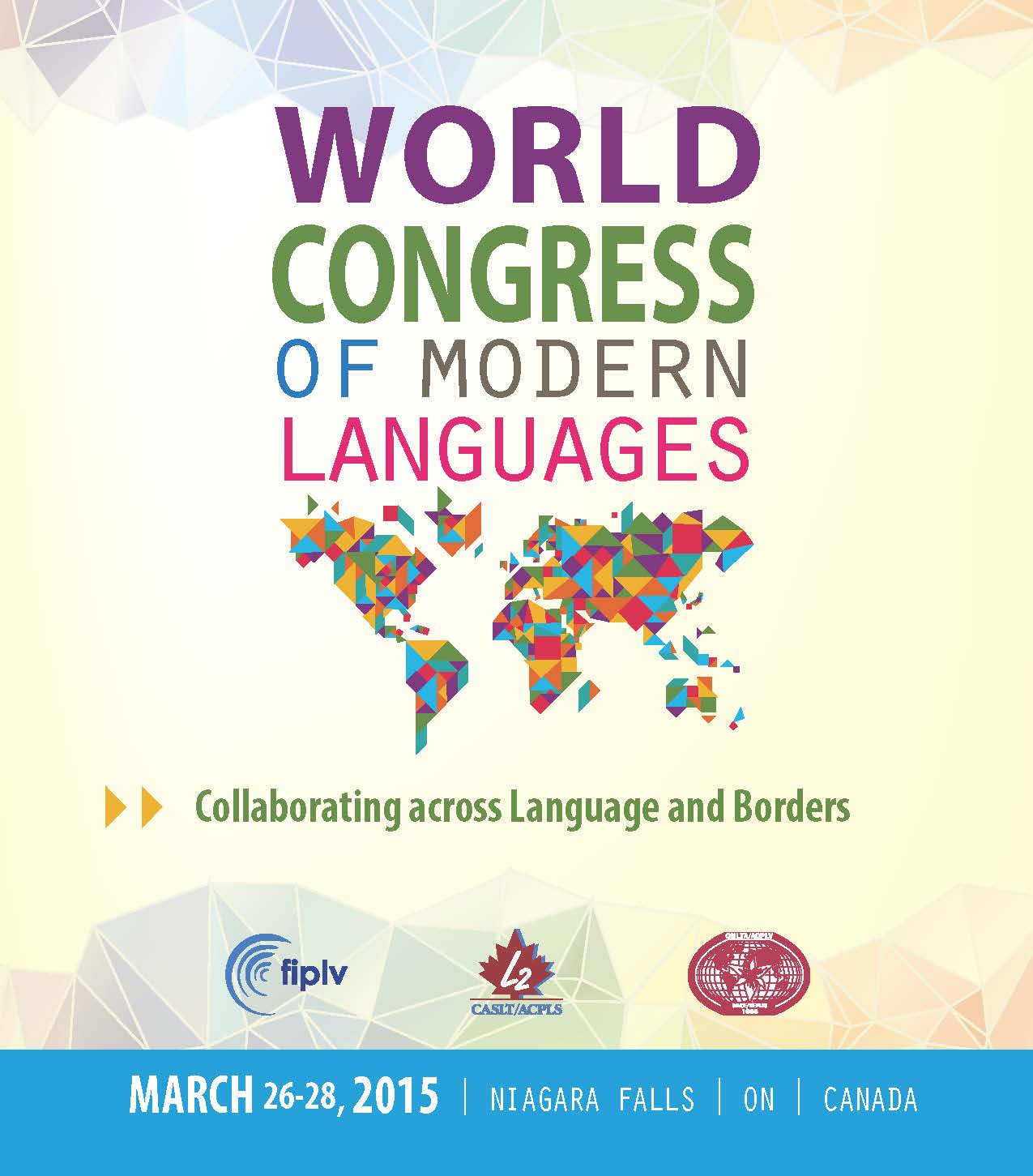 2016
New Teacher's Handbook released and I Can…: Empowering Language Learners translated into French.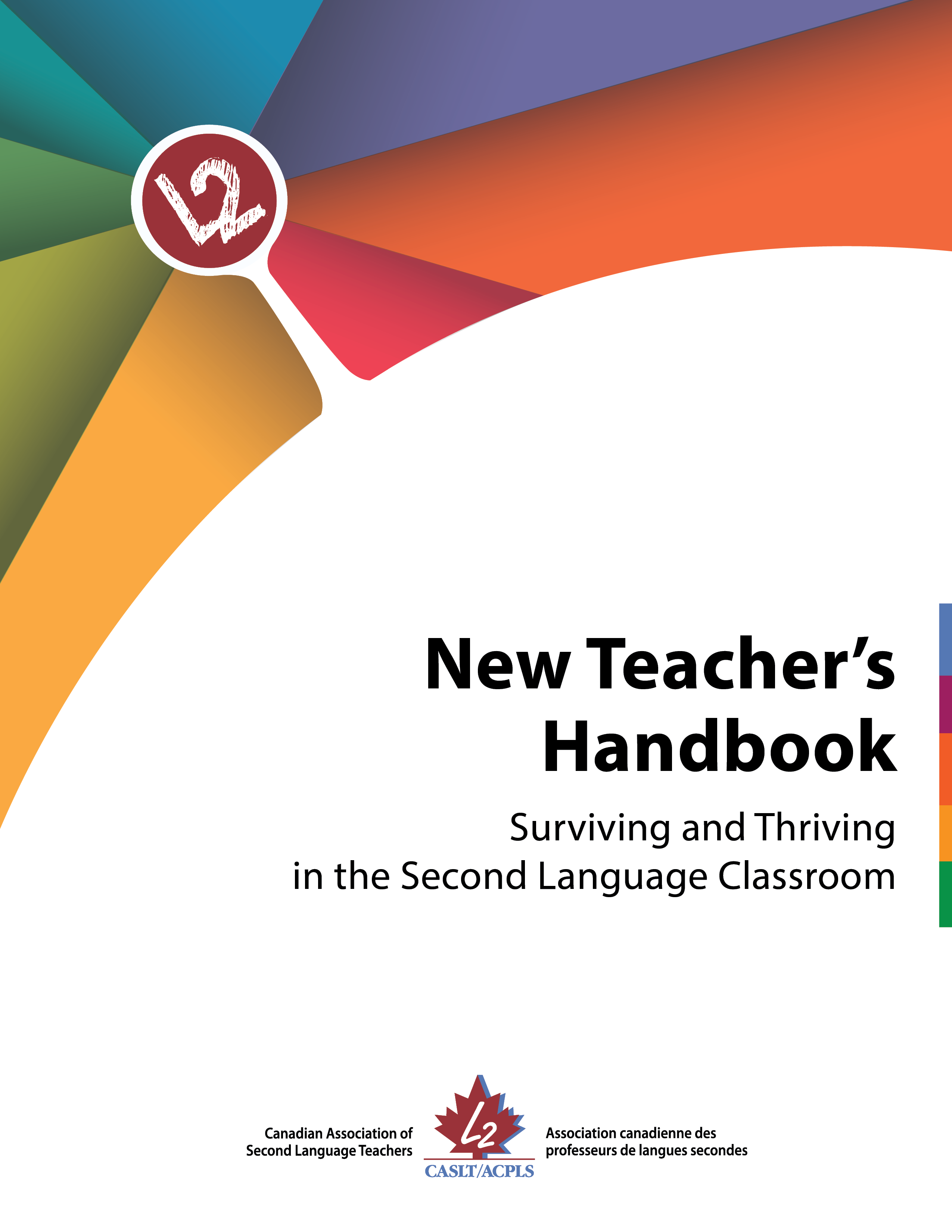 2017
CASLT's new website launched. Why Learn Languages? web tab revealed.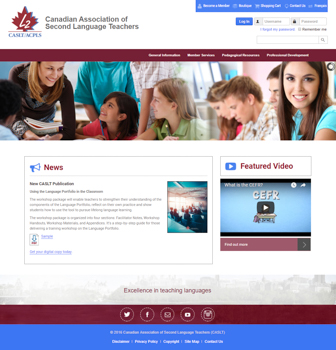 2018
Aboriginal Languages Gathering website launched to provide practical resources for teachers of Indigenous languages, links to teacher training programs, and contemporary research on Indigenous language teaching and acquisition.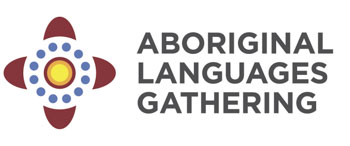 2019
Action-Oriented Approach Handbook and Success for All Series published.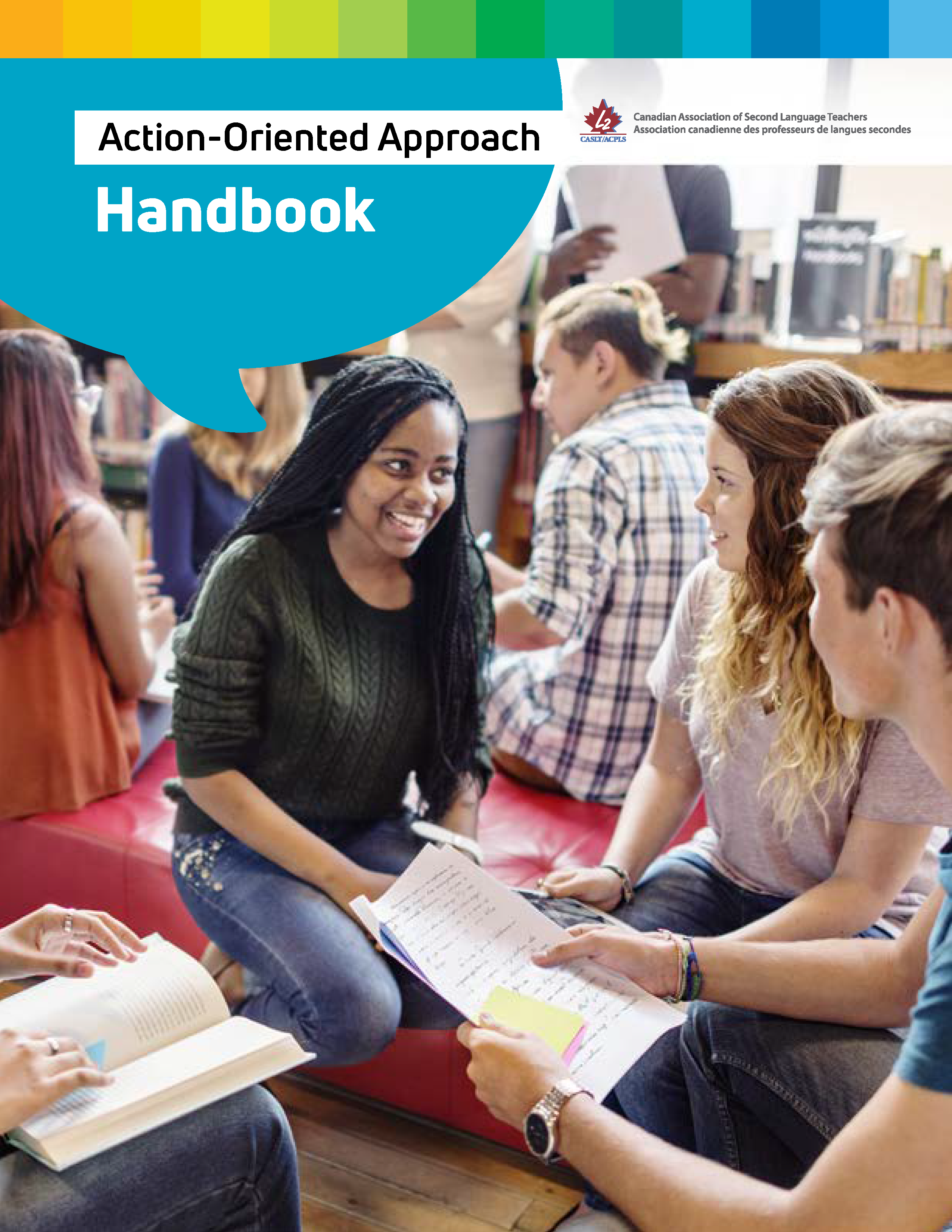 2020
Celebrating 50 years of dedication to helping educators achieve excellence in teaching languages.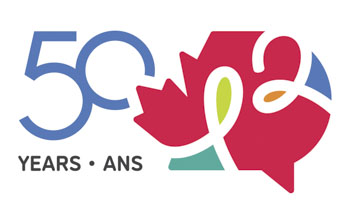 View the timeline from start to present by clicking through below.
Celebrating Our 50th Anniversary
In 2020, CASLT celebrated its 50th anniversary! Watch the 50 Years of CASLT video and reminisce with us and discover how CASLT has developed into the impressive organization it is today.
Réflexions 50th Anniversary Edition
Read this special edition of Réflexions to learn about our successes, challenges, and innovations over the past five decades.
Sample | Full version (Login to access)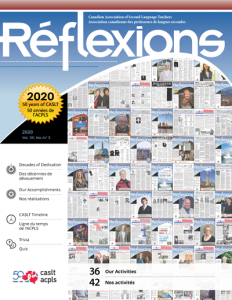 Become a Member
CASLT supports its members by creating opportunities for professional development, initiating and disseminating research, and facilitating the exchange of information and ideas among language educators. Memberships start at only $45 per year!
Compare Membership Categories
Sign up today