Over 200 K–8 teachers attended the conference on February 3, 2023.
Written by Stéphanie Garand and CASLT
A version of this article was published in Réflexions volume 42, number 2.
On Friday, February 3, 2023, more than 200 Kindergarten to Grade 8 French Immersion educators from the Winnipeg School Division (WSD) assembled at École River Heights School for a full day of professional learning at the Congrès de l'immersion française WSD 2023. The main themes of the conference centred on promoting French language acquisition and fostering student identity as French second language (FSL) learners.
Throughout the day, teachers could choose from 10 different workshops to target specific areas in French Immersion literacy and mathematics programming. CASLT helped organize two of the workshops as well as the keynote address. "The sessions were all meaningful with activities that teachers can easily use in their classrooms right away," said one teacher. Another teacher "really appreciated the message from the keynote speaker, Antonia Cetin, regarding French language acquisition and the importance of creating a safe space for learning as well as designing meaningful learning experiences for our FSL students."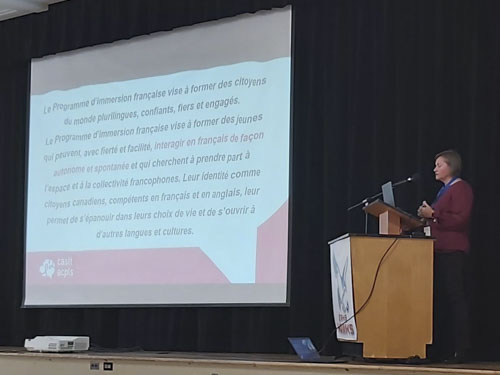 Key takeaways for teachers regarding their learning included the importance of planning meaningful, authentic learning experiences; planning and prioritizing opportunities for students to interact and speak in French; being intentional about connecting oral, reading, and writing tasks and skills; and implementing specific strategies to motivate students across subject areas. Many teachers providing feedback also described the learning experience as meaningful and impactful to them not only as FSL teachers but also as French language learners themselves. As one teacher put it, "As French immersion teachers, we often don't have the opportunities to collaborate and learn alongside others in the program. The pandemic also exacerbated this feeling of isolation."
When the WSD knew it wanted to organize an especially impactful professional learning day for its FSL teachers, it reached out to CASLT. The CASLT Chez-Vous program worked with the WSD to fit its goals and budget for its Congrès de l'immersion française.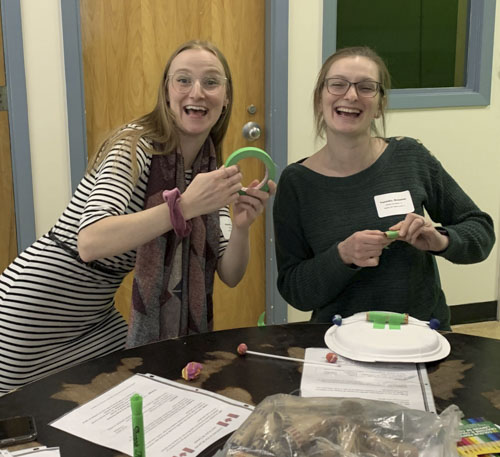 The CASLT Chez-Vous Model
A CASLT Chez-Vous (CCV) is a one- or half-day professional learning workshop offered in partnership with a local organization, such as a university, a provincial second language association, or a school board. It can take place in person or virtually. CASLT works with the host organization to develop a program that reflects the specific needs and interests of the participants. CCVs can be designed to address almost any subject of interest to language teachers!
Overall, a CCV is designed to meet the following goals:
Provide local opportunities for professional development and growth
Increase motivation and understanding of current effective practices
Support the application of effective research-based practices in daily teaching
All participants also receive a one-year membership to CASLT, so they can access even more resources and professional learning opportunities. Next time you're planning a professional learning event for language teachers, reach out to CASLT to see if a CCV is right for you.