A jingle dress dancer enters a pow wow to honour her culture and share respect, love for the land, and dance.
Written by Lauren-Rose Stunell
CASLT's Discovering Languages series is highlighting 12 languages spoken in different parts of the world — one for each month of 2023. The aim of this project is to spark interest in plurilingualism and pluriculturalism among language learners, school communities, and the public. Each language will be featured in a blog article and accompanied by a classroom-ready activity for language teachers to promote and popularize language learning among their students and help them develop intercultural competencies.
A Diverse Language and People
Cree is an Indigenous language spoken across North America from the Rocky Mountains to Labrador, and from the Northwest Territories to Montana. There are many dialects of Cree such as Swampy Cree, Woods Cree, and Plains Cree, usually named for the place where the dialect is spoken. Interestingly, different Cree speakers may not understand each other due to vast differences in dialects.
Although the number of Cree speakers in Canada is declining, it is still a widely spoken Indigenous language. In the Northwest Territories, Cree is one of the official languages. Michif, the language of the Métis, is also a dialect of Cree.
Like many other Indigenous languages, Cree is mostly an oral language first documented in writing by symbols rather than an alphabet. Upon contact with Europeans, the language was written down and the sounds were translated into Latin. Now, 400 years later, Canadians are working hard to protect and honour the many variations of Cree as we move further on our country's journey towards reconciliation.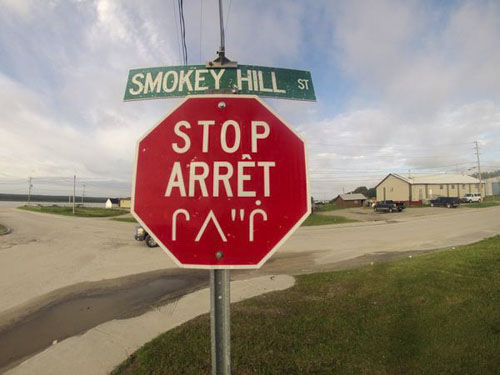 Bound in Love, Tradition, and Relationships
In my own journey towards reconciliation, I have been honoured to work with our Cree students in my school in Calgary. They teach me new words and new aspects of their culture, which has opened my eyes to this strong, independent, resilient group of Indigenous people. They fight hard against the effects of colonization to protect their language, traditions, and cultures in an ever-changing world.
My students speak fondly of their family relationships and the times they spend making bannock with their kokum (grandmother). They share their deep relationship with dance as a form of healing the soul from their ancestors. Students dance with pride for their classmates in their jingle dresses and fancy shawls. The self-proclaimed "pow wow princesses" in my class work hard to ensure that we, the non-Indigenous allies in their school community, understand the importance of understanding and celebrating the Cree people.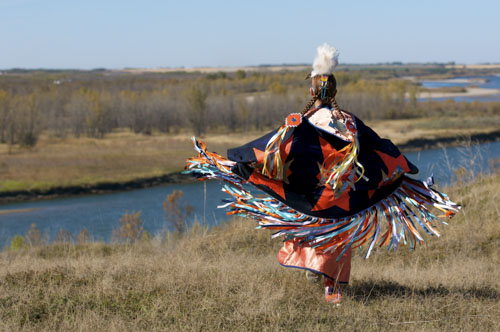 My students have shared that the importance of kinship — family and relationships — is the centre of their being. They are kind and understanding, and they follow important Indigenous values such as respect, love, and resilience in the learning and sharing of their culture. We can honour them in return by learning as much as we can about the Cree people and their language.
Learn Cree With TV: Tansi! Nehiyawetan!
Learning Objectives
At the end of this lesson, learners will know about the many locations of the Cree peoples and understand more about their culture, traditions, history, and language. Learners will become familiar with the deep connections that Cree peoples have with the land. They will understand basic vocabulary in Cree that they can relate to their target language and home languages.
Learners will begin to build connections with the seasons in Cree and the seasonal lifestyle changes of Indigenous peoples. Older audiences will begin to build an understanding of the importance of languages in cultural identity and the effects of colonialism on Indigenous peoples.
Introduction to the Lesson
This activity is best suited for elementary ages, however the context of learning words in a new language can be directed towards all ages, including post-secondary and pre-service teachers developing their competencies in Indigenous ways of knowing.
First, show students a map of British Columbia so they can understand the geography referenced in the video. The Tansi! Nehiyawetan video used in this lesson is filmed in Vancouver, the traditional territories of the Musqueam, Squamish, and Tsleil-Waututh First Nations. An interactive map can assist in understanding the Indigenous territories of Vancouver and British Columbia.
Second, provide the vocabulary for the seasons in the target language and in Cree:
| | | |
| --- | --- | --- |
| English | French | Cree |
| Spring | le printemps | Miyoskamin |
| Summer | l'été | Nipin |
| Fall | l'automne | Takwakin |
| Winter | l'hiver | Pipon |
Extension: Educators may choose to use the Online Cree Dictionary to search for common words in Cree to share with their students. This activity can also be enhanced with "The Six Seasons of the Woodland Cree" resource.
Activity Sequence
Tansi! Nehiyawetan is a Canadian TV show designed to help children learn vocabulary in Cree. "Tansi" means "hello" in Plains Cree. The show sparks interest by using content such as space, stories, music, pow wows, and animals. The program also highlights powerful Indigenous leaders to inspire youth and encourage them to do and seek good.
Watch this 9-minute episode of Tansi! Nehiyawetan together with your learners. Students may take notes or use sketchnote to document their learning and facts from the video.
Guide students to understand the new Cree vocabulary. Begin to document the words and unique sounds in the Cree language.
Incorporate new Cree vocabulary with the target language. For example, in morning meetings, if students are learning the date, time, and season, they can incorporate Cree as well. This works towards calls to action #13 and #14, to acknowledge Indigenous languages and language rights.
Students should now be able to build connections with the Cree language by identifying key words they know in their home language and additional languages. This may spark a conversation about the importance of cultural and linguistic identity and of preserving Indigenous languages. The teacher can ask learners questions such as these: How does speaking your first language or additional languages affect your identity? Do languages define who you are as a person?
Concluding the Activity
Incorporating this new vocabulary can spark important conversations about Indigenous peoples and their relationship to the land. For example, in winter, you can discuss how Indigenous peoples live on the land during the harsh weather and how their clothing must be adapted to keep them warm. You can discuss the gathering of medicines and berries in the spring and summer months. In the fall, you can discuss how Indigenous peoples of the Prairies hunt to prepare for the cold winter months. These conversations can inspire students on their own journeys of reconciliation to continue their education about Indigenous ways of knowing.
Extending the Activity for Older Audiences
Use the Cree Math Dictionary, created by the University of Regina. This resource can provide authentic ways to incorporate mathematical terms in Cree into the classroom. The dictionary provides insight into the Cree language and helps build foundational knowledge of Indigenous ways of knowing in Science, Engineering, Technology, and Math.
Older audiences may also advance their post-learning discussion into the topic of how cultural identity changes when children are prohibited from speaking their mother tongue, as was done in the residential school system in Canada.