Written by Lauren-Rose Stunell
In the above photo: A Métis man and woman in traditional clothing are showcasing their culture at a traditionally built Métis camp in Welland, Ontario.
CASLT's Discovering Languages series is highlighting 12 languages spoken in different parts of the world — one for each month of 2023. The aim of this project is to spark interest in plurilingualism and pluriculturalism among language learners, school communities, and the public. Each language will be featured in a blog article and accompanied by a classroom-ready activity for language teachers to promote and popularize language learning among their students and help them develop intercultural competencies.
Taanishi! I have had the great honour, as a non-Indigenous ally, of learning from many Métis people and families in my community as well as Métis students in my classroom. The Michif language, having such close ties to French, is one I hold close to my heart. It has been very special for me to build relationships with speakers of Michif and have the great honour of listening to Métis Elders and Knowledge Keepers talk about the importance of this language and its preservation.
Who Are the Métis People ?
The Métis people are an Indigenous group that spans the Canadian prairies. Superficially, we may know them as descendants of European men and Indigenous women, starting from when Europeans made contact with Indigenous peoples in North America, which led into the fur trade. Métis history is intertwined with the fur trade. They were responsible for inventing the Red River cart system and York boats, which were integral to transporting goods and hunting. However, the Métis people also have a vibrant artistic culture, intense ways of knowing, and a strong, unique identity.
The Métis people are well known for their uplifting "Métis Jig," which began in the 1800s as a combination of Indigenous dance and French-Canadian/Scottish jigging. Known as "oayache mannin" in Michif, the Métis Jig incorporates quick, fancy footwork danced to the fiddle tune of the "Red River Jig." The Métis people can be identified by their traditional regalia including the Ceinture Fléchée (Arrow Sash or Métis Sash), used by voyageurs to hold their boats close during expeditions. The sash is bright, each colour a symbol with deep meaning. For example, white represents the connection to the land, earth, and the Creator.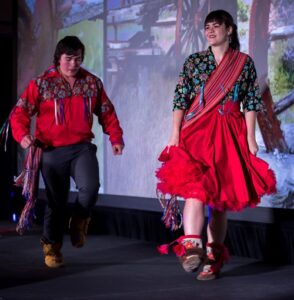 Preserving the Michif Language and Oral Tradition
Michif is the language spoken by the Métis people of North America, or Turtle Island. Since the Métis people are a unique blend of European and Indigenous descent, it comes as no surprise that the Michif language is also. The word Métis, in fact, stems from Latin roots meaning "mixed."
If you're a French speaker like me, the following phrases might sound familiar: "Boon matayn," "Boon apray mijii," and "Boon swayr." That's because the Michif language blends Cree verbs with French nouns! En français, we say "bon matin," which means good morning. In Michif, it is "Boon matayn!" The spelling is unique since the Michif language is an oral tradition only written down by Europeans.
There are different varieties of the Michif language. Michif-French, which is mostly French-based with a blend of Algonquian words, and Northern-Michif, which is Cree-based with a small number of words borrowed from French. Much like the different dialects and vocabulary of any language, Michif is unique to the nation and region in which the speakers live.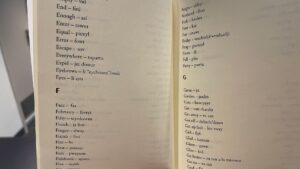 Why Preserve Indigenous Languages?
As educators, how can we bring languages at risk of extinction like Michif back to life in our classroom while honoring our role in Truth and Reconciliation? As language teachers, we should leave space for all languages to grow and blossom in our classrooms. This will allow us to build relationships with learners from diverse backgrounds, grow our own practice of culturally responsive teaching, and honor the Indigenous languages and peoples of the land on which we teach and learn.
Listening to the Michif language sparks an intense gratitude for the contributions of the Métis and Indigenous peoples of Turtle Island and the unique knowledge behind their stories and teachings. According to the Métis Nation of Ontario, only 5–10% of the Métis population speaks Michif and most of them are Elders.
Like animals, languages can also go extinct, and when they do, it can be impossible to bring them back. The Truth and Reconciliation Commission of Canada, in its 94 Calls to Action, has called upon the Government of Canada to provide sufficient funds for Aboriginal-language revitalization and preservation. What part can you play to help preserve these beautiful languages and cultures in your classroom? You can begin with a simple "Taanishi"!
Language Preservation: Creating a Culturally Responsive Classroom Through Belonging and Identity
Description of the Lesson
45–60 minutes
At the end of this lesson, students of all ages will be able to identify who they are, the meaning behind where they come from, and the roots, languages, stories, and histories that shape them as human beings. They will be able to create authentic connections and understanding of the Métis people and the idea of languages providing a foundation for culture and identity.
This lesson was designed with upper elementary students (Grades 4–6) in mind. However, it can be adapted for learners from kindergarten to post-secondary. This lesson may also be of use to pre-service teachers as they build relationships with learners and build their practice as educators.
This lesson will ask students to first reflect on their own identity and culture before building connections to those of Indigenous languages such as Michif. It will give them the opportunity to explore, take on new vocabulary, and preserve and honor the Michif language.
This lesson requires access to:
Smart board or projector for teachers to introduce the activity
Technology for learners
Worksheet for each individual learner or group (if done as a group activity)
Introduction to the Lesson
The teacher begins the lesson by welcoming students in Michif-French: "Taanishi students!" and "Boon Zhoor friends!" You can also have students follow along and greet each other in Northern Michif using the following video:
What other ways do we know to say hello? (Students can share the ways in which they say hello at home, to their ancestors, or in other language settings.)
The teacher explains that Michif is an Indigenous language spoken by the Métis people of Turtle Island. The history of the Métis people can be shared using information from the article above.
Use the following questions as hooks to engage learners in creating a community of cultural awareness and respect as students begin to share their identity and aspects of their unique cultures. These questions can also be delivered in a "think, pair, share" format. The questions can also be translated by the teacher into their target language to fit unique, personal language settings.
What country are you from? If you're from Canada, are your ancestors from other countries?
What language(s) do you speak at home?
Can you teach us how to say "My name is" or "how are you" in your language?
With a foundation of learner understanding, questions can be enhanced as follows:
Why is the language you speak important to your identity?
Can you tell us the history of the language you speak?
How would it feel if you didn't know how to speak the language of the country you originate from?
Michif doesn't have a word that translates exactly into "Good-bye." Instead, we say Mína ka wapamitin, I will see you again, or Pekiwke ahpi, come and visit sometime. Are there students in the class who speak similar languages?
These questions could spark a conversation about oral languages and what it means to share stories orally and pass them down from generation to generation.
Activity Sequence
Teachers with younger students should begin by showing them how to navigate the website and look for the information they need to research. They may need the teacher to model the expected outcomes of the lesson before working individually. The teacher may choose to model their responses to the questions in order to provide students with an example of expectations. This also provides a chance to build relationships and a community of culturally responsive teaching and learning.
Each learner should have access to technology to complete the activity:
Concluding and Extending the Activity
The teacher may choose to ask students to share their findings in a class discussion before engaging them in a class commitment. The Truth and Reconciliation Commission of Canada published the 94 Calls to Action to ensure that the needs of Indigenous peoples are met today after a 500-year history of colonization has damaged Indigenous peoples, their languages, and their cultures. Call to action #14 calls upon the Government of Canada to respect the rights of Indigenous languages. As a class, how can you commit to working towards preserving Indigenous languages? How can each student work towards understanding languages like Michif? The class could, for example, create a community showcase of their commitments.
Using the Activity with Older Audiences
For secondary and post-secondary audiences, students and pre-service teachers could be asked to create a similar activity using their own language or a language of their choice. They can be challenged to research the treaty or Indigenous land on which their institution resides and create an infographic for the Indigenous languages spoken in their area. For example, the Blackfoot name for Calgary is Mohkintsis. Calgary is situated on Treaty 7 land, the traditional territory of the Blackfoot Nation. What is the history behind the Blackfoot language and the stories and culture from this land?