Written by Rochelle Guida and Roswita Dressler
This article summarizes key findings from CASLT's pan-Canadian study about second language teachers' experiences with student and educator mental health during the COVID-19 pandemic.
L'ultimo ballo (The Last Dance)
In early March 2020, Rochelle was asked to organize an Italian lunch-hour festival for the school to cheer up high school students who could no longer go to Italy on their March Break due to rising cases of COVID-19. With her Italian students, she set up card games, a karaoke station, and tarantella dancing to bring a little taste of la dolce vita ("the sweet life") to the school. It was one of the loudest, most fulfilling days of her Italian program. It was also one of the scariest days of her career due to Italy's unprecedented lockdown.
Shortly after the event, second language learning went online. Rochelle grabbed her language binders and quickly learned to transition hard copy documents to the virtual setting. Over the next three months, she felt anxious, exhausted, and unenthusiastic about teaching a multi-level Italian class virtually. She pulled through, but several students did not feel supported in their learning and decided not to pursue Italian the following year. Throughout the wave, she and her students questioned the value of learning Italian online due to the loss of rich cultural experiences in the physical classroom. Discouraged, she often thought, was that the last dance of my Italian program? Perhaps other second language teachers wondered the same thing.
Our Research Study
In fall 2021, CASLT commissioned a study into the impact of the COVID-19 pandemic on Canadian second language teachers and their practice, including observations of student and family mental health. An online survey and a virtual focus group provided insight into participants' mental health challenges and supports. This blog provides some of the highlights from that research.
Mental Health Challenges
Teacher Challenges
Many teachers did not receive mental health support during the pandemic. Teachers reported several personal mental health challenges between March 2020 and June 2021:
Social isolation
Exhaustion
COVID-19 anxiety
Feeling like a "bad teacher"
Lack of administrative support
Overwork
Extreme sadness
Many teachers felt socially isolated and mentally exhausted. For example, pandemic safety protocols sometimes limited collegial interaction. One teacher reported that "With all the protocols in place, collaborating with colleagues was not possible, even just interacting to share ideas and discuss these new challenges … I had [to eat lunch in] my car … because the staff room was closed."
Adjusting to online learning also resulted in feelings of exhaustion. Echoing the experiences of many, one teacher described what led to this tiredness and stress:
Connectivity [issues] and [lack of] proper space … added to my stress. Having to give feedback on every little assignment or task … took hours and I was up many times until midnight or later. Having to create digital worksheets and make them accessible to all (modified, fillable sheets, etc.) and then create links to access them or put them in several formats (digital and pdf for printables), spending hours researching appropriate and usable websites and to keep up with curriculum was absolutely exhausting. The level of stress was very unhealthy.
The dedication of teachers to second language teaching and the challenges of work–life balance also contributed to the feelings of overwork. One teacher "ended up working 12-hour days. It was all-consuming, with very little separation between work and home life … I think I worked 100 times harder [since] I did not want my students to drop French or Spanish when they came back to in-person learning."
Overall, the pandemic had a strong impact on Canadian second language teachers' mental health. Reflecting on online teaching, many teachers preferred the physical classroom. Unfortunately, some teachers found themselves simply trying "to survive and get through a day." Many teachers reported that the mental health challenges of their students also impacted their teaching, adding to their own stress.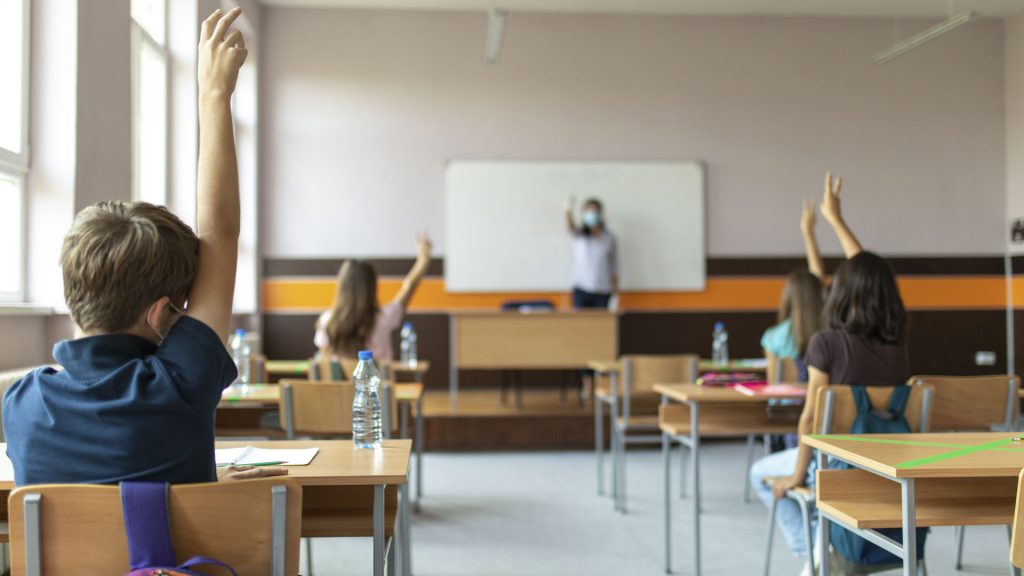 Student and Family Challenges
Often student challenges were rooted in their home situation (e.g., having reliable Internet or having an adult to facilitate learning). Some students were engaged in remote learning, but most experienced the following issues:
Stress (e.g., feeling unprepared for postsecondary education, stress of the unknown, fear of getting COVID-19)
Isolation and depression (e.g., inability to seek teacher help, missing friends)
Disengagement and defiance (e.g., reaction to safety protocols in class, online learning)
Parental concerns (e.g., fear for child's academic performance, challenges understanding homework in the target language)
Course rescheduling stress (e.g., shifting from 40 minutes daily for French to only occasional interaction)
Fatigue
One teacher described student fear this way:
I know of many students who have become very anxious around COVID, not knowing if their friends were home sick … My own school-aged kids were very anxious if I or my husband would leave the house for work or to get groceries. It was a very scary time for them, especially when they are also surrounded by adults who have NEVER been in a situation like this. We didn't have answers …
Second language teachers and students may have been especially impacted by mental health challenges during the COVID-19 pandemic as the dynamic aspects of the pedagogy and programs were negatively affected. One teacher said, "The ability to travel and to have field trips […] to share cultural experiences […] and DELF exams [were cancelled] so the motivation was low for some students and some just 'dropped' off the face of the earth."
There were also commonalities in the mental health challenges of both teachers and students. The overall uncertainty of the pandemic created continued stress. Disengaged students affected overworked teachers. One survey respondent felt that "the lack of participation" left them feeling "unappreciated and that my work time was wasted. This in turn left me feeling unmotivated. It was sometimes difficult to put my heart into my teaching."
Mental Health Strategies and Resources
Recognizing the importance of continuously striving for strong mental health in our teaching communities, we offer some strategies and resources.
Strategies Offered by Participants
Along with some of our own personal suggestions, educators shared these ideas for improving mental health:
Embrace technology
Don't micro-manage the classroom
Include virtual guest speakers from the target language community
Be "active as much as possible, such as cross-country skiing in winter"
Play musical instruments
Listen to uplifting and inspiring music
Listen to podcasts of personal interest
Practice daily meditation
Believe in the mantra of "This, too, shall pass"
One focus group participant stressed building student–teacher relationships to ignite learning: "Let's take the time to get to know our students, to develop relationships, because then it's much easier to get through the content." Another reminded teachers of their internal fortitude, saying, "I think everyone remembers how important it is for a teacher [to receive] recognition. So let's trust the teachers."
Mental Health Resources
In addition to the strategies shared above, these mental health resources are available to teachers:
We hope that you have found comfort and inspiration in learning about the mental health experiences of Canadian second language teachers during the pandemic. Stay tuned for our next blog about online oral language experiences and strategies.