Written by Rochelle Guida and Roswita Dressler
Our Research Study
In fall 2021, CASLT commissioned a study on the impact of the COVID-19 pandemic on Canadian second language teachers and their practice. Participants were invited to complete an online survey and participate in a virtual focus group. Responding to questions about digital literacy and technology, teachers shared various oral communication experiences and strategies they used between March 2020 and June 2021.
Oral Communication Challenges
Oral communication is important in second language learning. We say it all the time, but … even if we know it … there is a tendency to spend most of the time on writing … when actually oral communication is the foundation. Being online impacts oral communication. I think that tasks are more authentic and natural for the student if there is a connection. It is easier to be motivated. It has become clear to me, perhaps clearer because of teaching during pandemic.
As this teacher argues, oral communication is the cornerstone of second language teaching. During the pandemic, however, oral communication was disrupted by emergency remote teaching and health protocols during in-person teaching. This challenge was on the minds of many participants, including one who said ensuring that students had adequate oral practice was their biggest teaching challenge.
Another teacher reported that "When students returned to school, they had troubles addressing me in French. […] they had been without French all summer, they had two weeks in class, then five or six weeks at home. Now it's been a week, two weeks since we came back."
Many teachers and students felt unprepared for the transition to the online classroom. Due to lack of training, some teachers encountered difficulties moderating and encouraging oral communication in breakout rooms, even "during that whole three months" of the first wave. Newcomer students to Canada experienced significant learning challenges with "various tech platforms and tools […] through a computer screen with limited English skills."
To address oral communication difficulties, teachers organized online group discussions. Often they noticed that students had trouble participating because of their unfamiliarity with the technological tools:
There are many activities that you cannot do [online], including group activities. Even if there are ways [to practice oral communication], the students aren't familiar with those methods and time is wasted trying to put them into practice. It is difficult to provide one-on-one support or help those who fall behind since we do not see them physically and their cameras are off.
Oral Communication Successes and Innovations
Where pandemic protocols significantly reduced class size, teachers reported "an ideal situation" for experimenting "with different oral activities" and online communication tools to "increase engagement." Google Read and Write was used to differentiate instruction and improve reading and writing skills. Flipgrid was used for student recordings "for oral assessment/daily responses." One teacher reported that Flipgrid "allowed me to hear them more clearly and to get responses from some students that I do not normally hear from."
Other teachers benefited from Zoom breakout rooms. One placed students in smaller breakout rooms versus the large group "to encourage participation." Some indicated that breakout rooms were used to "assess oral skills" and "videoconference with students." One educator wrote about how their breakout room session was organized:
[For] conversation practice, I had a giant ear to show that I was a fly on the wall. They said this was their favourite part of the Zoom meetings. Conversation practice aside, they felt connected and used this time to work out challenges/mini-tutorials within the class time.
Teachers made ongoing efforts to establish welcoming learning environments online. Some students eagerly sent in "videos of their oral work" and others participated in video calls for "oral tests" if absent from the lesson. Furthermore, some students in rural communities submitted "oral activities" by phone to overcome Internet issues.
These oral communication strategies demonstrate the resilience of educators working through the COVID-19 pandemic. Moving forward post-pandemic, some teachers wished for additional oral learning strategies for online contexts. Others requested "low-tech, high efficacy strategies to go back to" for future connectivity issues, so that fewer students experience significant learning challenges.
A Personal Success Story
As a teacher who faced oral communication challenges during the pandemic, Rochelle developed a creative solution for her Italian language students. Searching for a virtual experience to Italy, she found an online Italian tour company founded by Dr. Anna Piperato. She scheduled a virtual trip to Siena for her class in early December 2020.
At that point, Rochelle was teaching bimodally  — both face-to-face with students at school and concurrently with students online. To prepare students for the special day, Anna sent a Siena PowerPoint with important landmarks and vocabulary. Whether in class or online, students were expected to participate orally. They were also invited to use the chat feature.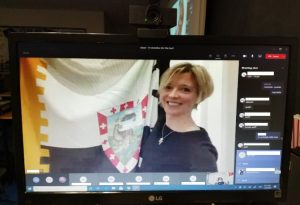 From beginner-level statements to advanced conversations using the subjunctive, Rochelle was happily surprised to see her students engaged. The virtual field trip offered them meaningful opportunities to communicate with a native speaker and immerse themselves in Italian culture. The experience also brought positive energy and light into the COVID-19 darkness since it offered hope for a normal future.
More Suggestions
Here are some other ideas for promoting L2 oral communication online:
Use breakout rooms to create smaller discussion groups or change up the timetable to meet with smaller groups (no more than eight students at a time) rather than the large class.
Prepare a speaking document with popular statements and expressions (e.g., fillers, expressing opinions) for all online discussions
Organize discussions on stimulating topics (e.g., masking debates, future language goals, news reactions, etc.). Here is a lesson for Grade 10 Core French: Notre avenir après le coronavirus
Continue using dialogues in virtual classrooms. Here is an interview assignment for Rochelle's Grade 10 Italian class: Intervista con un collega di classe
We hope that you have found inspiration in reading about these online oral language experiences and strategies from Canadian second language teachers.